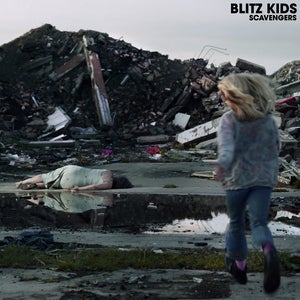 The-band-formerly-known-as Rig Up Explosive are continuing to shake off their old moniker and reinvent themselves under the new name Blitz Kids with this their second EP, Scavengers. Having glanced at their photos, their glam-rock appearance leaves one wishing them success purely to recompensate their spendings on the large amount of hairspray they must work themselves through collectively and stabilise the economy in the process.
I began listening to this EP with scepticism, simply expecting another band creating music that could seemlessly blend into the emo/alt-rock ocean of Fall Out Boy repeats. However I finished pleasantly surprised to a certain extent. The opening track begins with a busy and energetic guitar melody that reminded me of Heart In A Cage by The Strokes. My ears perked up but my hopes were dashed once the vocals arrived which to me sounded like another classic-rock Axl Rose mimic. However as the album goes on vocalist Joe James shows what he can really do with his voice as he plays with falsetto and Lostprophets style woefulness.
The second track Maybe We'll Die, Maybe We Won't caught my attention more than the opener, but track three really had me listening. In Each Other Eyes if definitely a standout track with palm muted, reverberated guitar riffs and excellent controlled drumming reminiscent of Bloc Party instrumentation in their prime before Kele Okereke turned to the dark side of mainstream mindlessness.
As for the general sound of the EP, the strong drumming certainly needs to be more prominent. This is a very vocal driven EP which doesn't benefit the sound; I'm sure as a live act their individual talents come across better than on record. Even a little more concentration on guitar wouldn't go amiss as the quirky Maps and Atlases style riffs certainly deserve some recognition.
This EP shows accessibility for reluctant fans of emotional lyricism and dark pop-rock style with some nice touches of freshness and originality.
Scavengers EP by Blitz Kids is available now.
www.myspace.com/blitzkidsuk