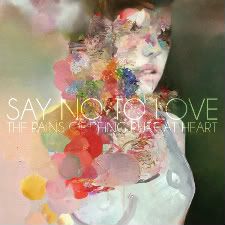 If The Cure's Robert Smith and The Smith's Johnny Marr had a lovechild, it would be really weird and defy science. And on an unrelated note, the members of The Pains Of Being Pure At Heart appear to have taken lessons from the Smith and Marr school of jangly guitars. Sunny pop with elements of My Bloody Valentine shoegaze and dreaminess, The Pain's new single is an offering that reassures us that the New Yorkers, continuing a relatively short career at this stage (1 album and 1 EP), are still consistently delivering enjoyable indie tunes.
Whereas British indie is anger inducing more often than not with arrogant attitudes, mockney accents and ever competitive pretentiousness, summer-soaked American indie is often hard not to enjoy, like when you're mad at someone and they keep pulling funny faces and you smirk a little which soon enough leads to a laugh.
Expect unintrusive, fuzzy fun from this single. Nothing that will change our entire perception of music itself, but The Pains are a greater band than many.
Say No To Love by The Pains Of Being Pure At Heart is out 5th July.
www.myspace.com/thepainsofbeingpureatheart