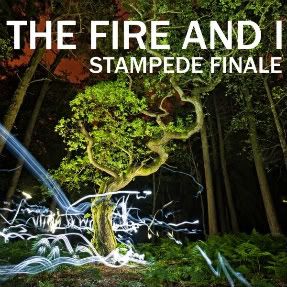 Stampede Finale is the debut album from Scottish natives The Fire And I. A similar lineup to Death From Above 1979, the band consists of only two members, bassist Gordon Love and drummer Hooligan Sadikson (surely a nickname...I mean, what kind of a name is Gordon?) A similar lineup and indeed a similar sound to that of the grungy, dance-punk noise group Death From Above, the duo convey emotions through their music that range from anger to outrage to fury. The sharp backing vocals are reminiscent of the wail of math-rock band Tubelord.
On the Scottish scale they are somewhere inbetween Biffy Clyro and The Proclaimers, their thick accents adding an extra growl to their vocals but not being so prominent that they are reduced to nothing but a novelty band. Showcasing adrenaline-fueled energy, the album displays elements of mathy-punk chanting creating a powerful noise considering the number of members. A satisfying band for all the headbangers out there, the song 'Mr K' being the most likely pleaser as the crunchy bass and quirky synths grow ever faster over the clangor of clapping drums.
The thought that remains in the back of my mind is of a poor man's DFA1979. But this is not a bad band to be likened to at all, the energy and creativity taken to create a sound that consists of so little but listens like a full band is not to be ignored. A fun album by this new band.
www.myspace.com/thefireandI