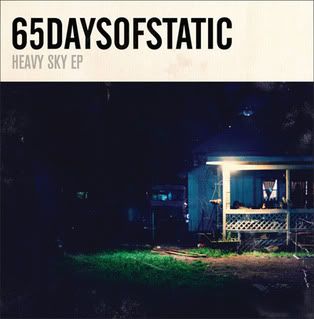 After 65daysofstatic's superb 'We Were Exploding Anyway' album comes it's younger and wilder brother: the Heavy Sky EP. Another stepping stone towards the electronic goal, 65's sound delves deeper into their new direction. Opening on an edited version of WWEA highlight 'Tiger Girl' almost seems like a teaser for buying the album, curious then considering the chronology of the releases. What I loved about Tiger Girl was that for a 10 minute long track, it's never a chore to listen to. This new edited three and a half minute version throws you in the deep end and unfortunately deprives the listener of the build up that makes the song's climax so satisfying - it's a quicky with no foreplay.
The rest of the album provides something entirely new, almost an exaggeration of the WWEA album as guitars are ostracised to make way for zippy synths to achieve the electronic feel the band have decided to move towards. There has always been an undertone of electronica in every 65 album, but never has it been as blatant and in-your-face as with the Heavy Sky EP.
A 65 album wouldn't be a 65 album without a track centered around a piano harmony, such as with Come To Me and Radio Protector from previous albums. The latest is 'Pacify' which is my favourite on the EP. 65 do what they do best in making something simple gradually become more and more powerful before you've even realised how they've done it, slowly but surely adding more complex drum rhythms and wailing guitars until you find your head rocking. 'PX3' sounds a lot like it has come from a much earlier album as 65 tip a hat to their roots, with a Radio Protector style high note piano melody making a brief cameo and echoing guitars back into full swing.
As usual, powerful drums persist throughout the EP, the most obvious example being during 10 minute finale 'Guitar Cascades'. It's no Tiger Girl, but this track is almost psychedelic for something that sounds so heavy. Hypnotic repetition and beautiful use of pianos intertwined with synths backed by thumping drums makes for a great finishing track.
Another sublime production from 65daysofstatic that seems to serve as an epilogue to the We Were Exploding Anyway album, which is how it is best listened.
www.myspace.com/65propaganda